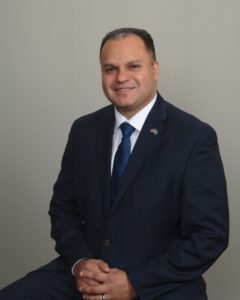 Queens resident, Jose Nieves, has dedicated his life to public service as a career prosecutor, army combat veteran and community leader for more than twenty years. He worked for the Office of the New York State Attorney General as a Deputy Chief in the Special Investigations and Prosecutions Unit.
Jose grew up in a single parent home with six siblings. His life of public service dates back more than 25 years when he served as a peer mediator in the Queens Mediation Center in Jamaica, Queens and served as a Leadership Development Specialist with ASPIRA, a national Hispanic organization dedicated to developing young leaders in the Latino community.
Jose graduated from St. John's University, in Queens, with a Bachelor's Degree in Criminal Justice and went on to attend Brooklyn Law School. While in law school, Jose worked on the investigation into the NYPD's "Stop and Frisk" practices at the Civil Rights Bureau of the NYS Attorney General's Office. He was also a member of Community Board No. 5, and for ten years Jose served as a member and President of the Cypress Hills Local Development Corporation.
After graduation from Brooklyn Law School in 2001, Jose joined the Kings County District Attorney's Office as an Assistant District Attorney. During his eleven-year tenure, he advanced to the position of Counsel and prosecuted hundreds of criminal cases including long term narcotics investigations, gun related offenses, robberies, burglaries and assault cases as well as other violent crimes.  He conducted hundreds of evidentiary hearings and conducted felony and misdemeanor trials. As a senior prosecutor, Jose also trained New York City Police Department plain clothed units on search and seizure law and collection, preservation and documentation of evidence. Jose attended precinct counsel meetings and conducted community outreach with local public schools.
Jose was a Captain the U.S. Army Reserves for over 10 years and was deployed to Afghanistan for one year in 2009.  While in the Army, Jose prosecuted sexual assault offenses and other misconduct by U.S. service members. Jose was also asked to serve as a Special U.S. Attorney for the US Attorney's office in the Northern District of New York where he prosecuted cases in federal court. During Jose's deployment to Afghanistan, he was tasked with the rule of law mission in the Laghman Province. He focused on advising Afghan Judges, Defense Counsels and Prosecutors regarding matters of criminal law, trial advocacy and the administration of their newly formed criminal justice system. Jose was also instrumental in overseeing major infrastructure projects that included renovation of a court house and the pre-trial detention facility. Jose served in the military until 2014 when he received an honorable discharge.
From 2012 through 2014, Jose served with the US Department of Transportation, Federal Aviation Administration where he oversaw the investigation and prosecution of various violations of the Federal Aviation Regulation (FAR) by pilots, air carriers and aviation mechanics.
In 2014, Jose joined the New York City Department of Correction, Trials and Litigation Division. There he prosecuted numerous cases involving excessive use of force and other misconduct by New York City Correction Officers.
In 2016, Jose joined the Office of the New York State Attorney General.  He served as a Deputy Chief in the Special Investigations and Prosecutions Unit, which investigates and, if warranted, prosecutes members of law enforcement who cause the death of unarmed civilians. He also conducted the unit's first homicide trial.
In addition to his public service, Jose has served the Queens community as the Cub Master for his son's Cub Scout Pack. He is also the Youth Guild Director and Flag Football Coach for his parish. In addition, Jose serves as the Co-President of Parent Association of his son's school and is a lifetime member of the Veteran of Foreign Wars organization.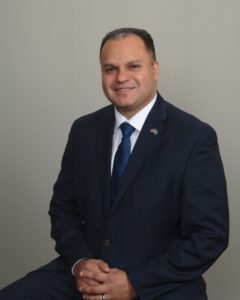 José Nieves, ha dedicado su vida al servicio público no solo en la capacidad de fiscal sino también como veterano de combate del Ejército y líder comunitario por más de veinte años. Actualmente, José trabaja para la Oficina del Fiscal General del Estado de Nueva York como Jefe Adjunto en la Unidad de Investigaciones Especiales y Enjuiciamiento.
José fue criado y educado junto a sus seis hermanos por su madre soltera quien les inculco buenos valores morales. Su vida de servicio público se remonta a sus años de escuela secundaria donde desempeñó la función de mediador en el Centro de Mediación de Queens localizado en Jamaica. Asistió a la Universidad de Saint John en Queens y durante sus años universitarios, realizo la función de Especialista y liderazgo con ASPIRA, una organización nacional hispana dedicada al desarrollo de líderes jóvenes en la comunidad latina. Después de graduarse de la universidad de Saint John con una licenciatura en Justicia Penal ingreso a la Escuela de Derecho de Brooklyn. José continuó su compromiso con el servicio público trabajando para la Agencia de Derechos Civiles de la Oficina del Fiscal General del Estado de Nueva York. Aquí trabajó en la investigación de las prácticas de Parada y Registro, Stop and Frisk, del Departamento de Policía de la ciudad de Nueva York. Fue miembro de la Junta Comunal No. 5 y durante un periodo de diez años, desempeñó el papel de miembro y presidente de la Corporación de Desarrollo Local de Cypress Hills.
Al culminar sus estudios en la Escuela de Derecho de Brooklyn en el 2001, José se unió a la Oficina del Fiscal de Distrito del Condado de Kings en la capacidad de Asistente del Fiscal de Distrito. Durante los once años que ejerció como Asistente de la Fiscalía, José procesó investigaciones de narcóticos a largo plazo, delitos relacionados con armas y otros crímenes violentos. En el 2003, José ingresó al servicio militar y formó parte del Cuerpo de Abogados en la Oficina del Procurador General de las Fuerzas Armadas de los Estados Unidos. En el 2004, fue asignado a la Décima División de Montaña en Fort Drum, donde sirvió dos años en el servicio activo, procesando delitos de agresión sexual y mala conducta por parte de miembros del servicio de los Estados Unidos. Durante su servicio activo también desempeño la función de Fiscal Especial de los Estados Unidos para la Oficina del Fiscal Federal del Distrito Norte de Nueva York, donde procesó casos a nivel federal.
En el año 2009, José fue activado una vez más para servir en un despliegue por un año en Afganistán. Mientras servía en combate, se le encomendó la misión del Estado de Derecho en la provincia de Laghman. Su enfoque consistía en asesorar a jueces, abogados defensores y fiscales afganos en asuntos de derecho penal, defensa de juicios y en la administración de un nuevo sistema de justicia penal. Desde el año 2012 hasta el año 2014, José trabajó en el Departamento de Transportación Administración Federal de Aviación de los Estados Unidos donde supervisó la investigación y el procesamiento de diversas violaciones del Reglamento de Aviación Federal por parte de pilotos, compañías aéreas y mecánicos de aviación. En el año 2014, se unió al Departamento de Corrección, Juicios y Litigios de la Ciudad de Nueva York. En este Departamento procesó numerosos casos de uso excesivo de fuerza y de mala conducta por parte de oficiales de corrección de la ciudad de Nueva York. En el año 2016, José se unió a la Oficina del Fiscal General del Estado de Nueva York, actualmente desempeña el cargo de Jefe Adjunto en la Unidad de Investigaciones Especiales y Enjuiciamiento, la cual investiga y, si la situación lo requiere, procesa a miembros de las fuerzas del orden público responsables de la muerte de civiles desarmados. José dirigió el primer juicio por homicidio de esta unidad.
Así mismo, José ha servido a la comunidad de Queens como líder de la tropa de los Cub Scouts de su hijo, como director del Gremio Juvenil y entrenador de Fútbol de Banderín de su parroquia. También es copresidente de la Asociación de Padres de la escuela y miembro vitalicio de la organización Veteran of Foreign Wars.